2022 Dwight D. Eisenhower Global Awards Gala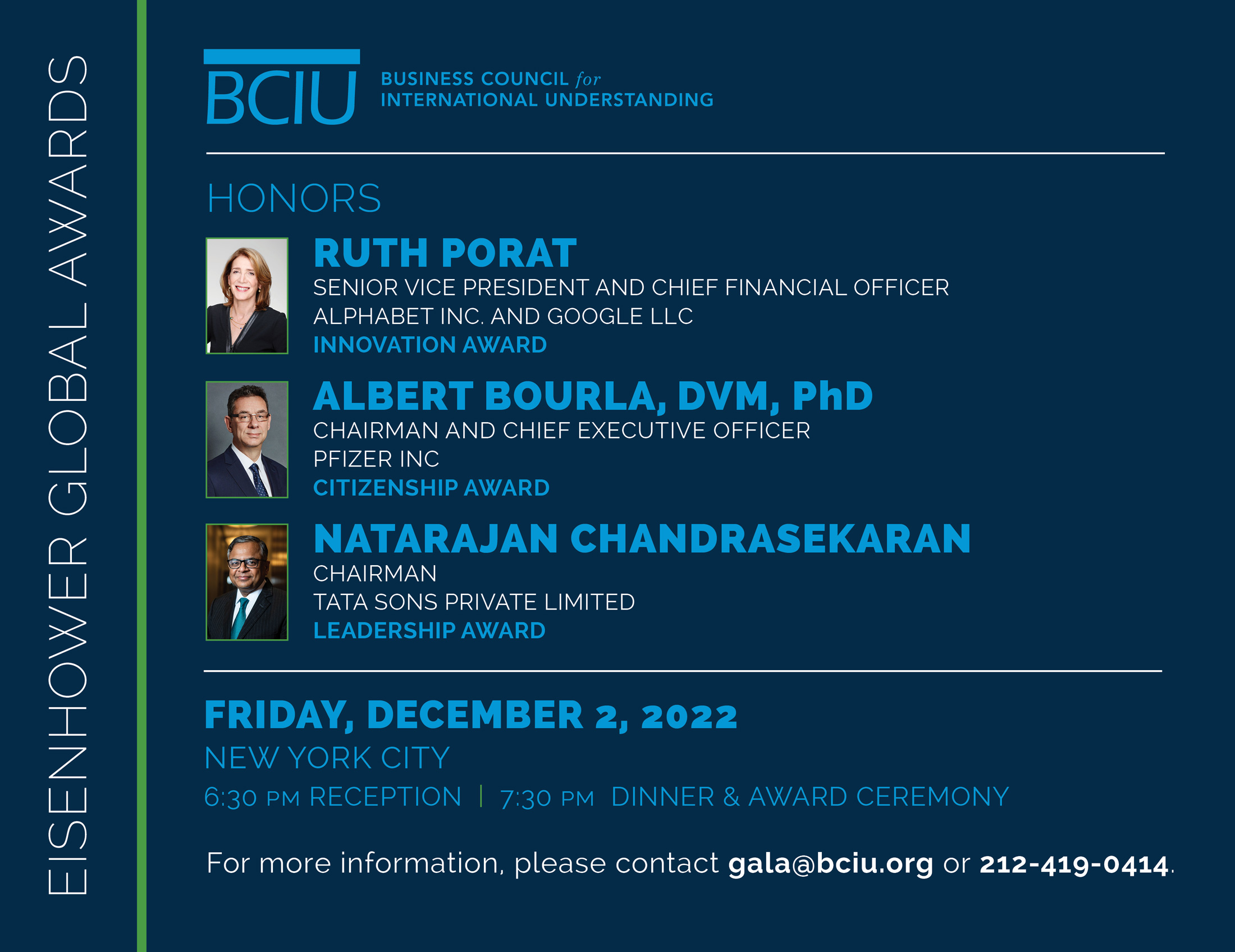 We are pleased to announce our 2022 Dwight D. Eisenhower Global Awards Gala will take place in NYC on Friday, December 2, where we will be recognizing the outstanding achievements of the following honorees:
Eisenhower Global Innovation Award: Ruth Porat, Senior Vice President and Chief Financial Officer of Alphabet and Google
Eisenhower Global Citizenship Award: Dr. Albert Bourla, Chairman and Chief Executive Officer of Pfizer
Eisenhower Global Leadership Award: Natarajan Chandrasekaran, Chairman of Tata Sons
Click here to learn how to support and be a part of this recognition
We merely want to live in peace with all the world, to trade with them, to commune with them, to learn from their culture as they may learn from ours.
- President Dwight D. Eisenhower
Every year since 1984, we've brought emissaries from business, government, and global agencies together to recognize outstanding global leadership and the power of partnership to promote international trade and diplomacy. At the Dwight D. Eisenhower Global Awards Gala, we bestow the Global Leadership Award to a distinguished member of the international business community who embodies outstanding leadership and achievement serving humanity, and the Global Citizenship Award for exceptional accomplishments in the field of social responsibility and sustainable development as well as commitments to enhance the growth and development of humankind.
In 2021, His Excellency Khaldoon Khalifa Al Mubarak of Mubadala received the Eisenhower Leadership Award, and Ken Frazier of Merck received the Eisenhower Citizenship Award. Past honorees include Alex Gorsky of Johnson & Johnson, Mukesh Ambani of Reliance Industries, Marillyn Hewson of Lockheed Martin, and the late Sergio Marchionne of Fiat Chrysler. Gala attendees include leaders in media, diplomacy, culture, philanthropy and business.
Click here to view the E-Journal from our 2021 Eisenhower Awards Ceremony which highlights our honorees, speakers, supporters, and more.
For more information on how to get involved and support our Eisenhower Awards Gala, please contact gala@bciu.org